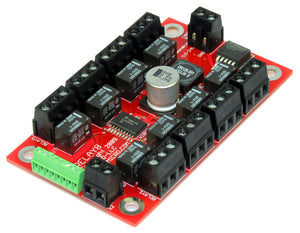 RELAY-8
8-Way Relay Board with Integrated Power Supply
FEATURES:
8 Relays 
Integrated Power Supply, 5.5-24VDC In / 5VDC Out 
5VDC can be used to power other circuits (about 200 mA) 
Small size at 2.3 x 3.9 inches 
Contact rating: 1A at 24VDC, 0.5A at 125VAC 
Circuit: SPDT 
All screw terminal connections 
Connections for Normally Open, COMMON, and Normally Closed 
The RELAY-8 is a relay control board which interfaces to 5V logic. Eight inputs control the 8 relays. Powered by unregulated 5.5-24VDC which feeds an efficient, cool running, switching regulator, or by regulated 5V input.