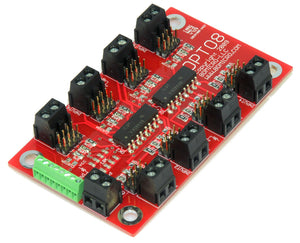 OPTO-8
8-Way Optical Isolated Optocoupler Input/Output Board
FEATURES:
8 Optical Isolated Inputs 
Isolation to 5300 Vrms 
Small size at 2.3 x 3.9 inches 
Jumper selectable input voltage 5V, 12V, 24V, and custom w/user installed resistor 
Outputs referenced to host circuit VCC 
All screw terminal connections 
The OPTO-8 accepts 8 optical isolated inputs and converts to the host circuit VCC logic level. Each input can be configured for 5V, 12V, or 24V input using a jumper. If a custom voltage input is needed, the user can install their own resistor of the appropriate value for any voltage to tailor to their unique needs.
Download the OPTO-8 product manual here.
Use the OPTO-8 optocoupler to isolate your sensing and control circuitry from the circuits that you are connecting to in order to prevent electrical high voltage from affecting lower power systems that receive or transmit the signals.